Climbing Tower
If you are looking for an exciting challenge and a great way to bring a group together, our 40-foot climbing tower has over 1000 square feet of climbing surfaces and multiple routes to choose from.  You will need to use strategy, strength and determination to get to the top as the rest of your group supports you on the belay lines and offers encouragement.

Crate Climbing
Crate climbing is a unique challenge that requires a blend of concentration, balance, cooperation, communication and boldness.  Count the milk crates you stack underneath your feet as you rise up into the forest canopy and your support group tosses more and more crates up to you!  Lose your balance?  Don't worry!  You have an experienced Irons Oaks Facilitator on the end of your rope to ensure a safe ride back to the ground.
Power Pole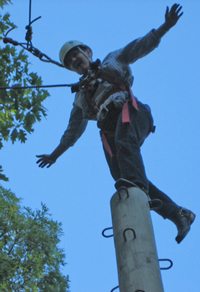 The power pole is an ideal culminating activity where group support can literally push an individual to new heights.  A 25-foot climb up a telephone pole, with two support teams holding your ropes as you propel yourself to the top is a feeling that words cannot describe.  Once at the top you can sit and soak up the view and the feeling of unparalleled exhilaration, or stand and balance as you prepare to jump off as your support teams gently guide you back to the ground.  A truly exceptional experience.
Fees:
| | | | |
| --- | --- | --- | --- |
| Half-Day Program (up to 4 hours) | | | |
| Climbing Activity with Teams | Fee per group of 14 | $460 | |
| Climbing Activity with Power Pole | Fee per group of 14 | $460 | |
| | | | |
| --- | --- | --- | --- |
| Full-Day Program (4 to 8 hours) | | | |
| Climbing Activity with Teams | Fee per group of 14 | $700 | |
| Climbing Activity with Power Pole | Fee per group of 14 | $700 | |
Call for Resident discount or Corporate and Not-for-Profit Corporate Group pricing.
By The Hour – Tower, Crates, or Power Pole
Climb something!  Climb anything!  You can book a climbing activity by the hour.  It's a great way to celebrate a birthday, stop by with scouts, or just satisfy your thrill-seeking side with a group of adventurous friends.  The program is two hours and you will receive the professional support of a trained Irons Oaks Facilitator as well as brief safety gear and technique training for your adventure.  Additional hours are available to reserve at the time of booking.  Program for 3rd grade and up, unless accompanied by parent/guardian.
Fee:  $180 R / $225 NR for two hours   |   $90 each additional hour.
Programs run rain or shine.  Participants are required to sign a standard liability waiver.
Questions? please contact us at adventurecenter@hfparks.com